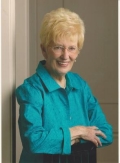 Jean Katherine Dillon, 87, a resident of Montgomery for 70 years, died Sunday, February 3, 2013. She was a delightful, sassy, loving mother, grandmother, great-grandmother and wonderful friend. A strong legacy of generosity, intelligence and innovation will live on the lives of her family and friends. A Celebration of Life service will be held on Saturday, February 9, 2013 at 1:00 p.m. at White Chapel-Greenwood Funeral Home with Minister Danny Robbins officiating. Burial will follow in Greenwood Cemetery. A visitation with reception will be held one hour prior to the service on Saturday.

Jean Kate was the daughter of the late Andrew Crawford and Nell Cook Dillon, Sr. and granddaughter of Martin and Katherine Dillon of Birmingham and William and Jeanie Cook of Nauvoo. She was preceded in death by her beloved brother, Andrew Crawford Dillon, Jr. and son- in- law Max A. May of Woodbury, MN. She is survived by two daughters, Norma Jean May and Elizabeth Annell (Wayne) Lawrence; grandchildren, Royal Aubrey (April) Davis, III, Rodney Lee (Kelly) Burkey, II, Molly Ann (Josh) Norris, Katherine Lelia Montgomery, Brian Christopher (Andrea) May, Frances Hope (Aaron) Wallace, James Franklin (Julianna) Vance, III, Katherine DeAnne May, Edward Zacchaeus Vance; great grandchildren, Francesca Elyvianne Norris, Juliet Apolline Norris, Sylvie Jane Burkey; and her pet cat Zoey "Babysing".

Jean Katherine Dillon was born on May 18, 1925 in Birmingham, Alabama. In 1950, she completed a Bachelor of Arts degree in business and English education at Huntingdon College in Montgomery, Alabama. A secretary and bookkeeper at H.T. Fitzpatric CPA/Attorney from 1948 until 1950, Ms. Dillon followed this with service as a secretary and budget technician for the Director of the Budget at HQ Air University on Maxwell Air Force Base. From 1958 to 1986, she was executive secretary/administrative assistant to the deputy chief of staff, comptroller. She retired from federal service in 1986. Ms. Dillon was the first runner up for Federal Secretary of the Year in the Montgomery, Alabama areas in 1985 and received many outstanding performance ratings and quality salary increases during her long career at HQ Air University.

A life member of Huntingdon College Alumni Association, Ms. Dillon was also a member of the American Association of University Women, the Birmingham Historical Society, and the Montgomery Saint Andrew's Society, with which she held the office of recording secretary. She was secretary of the board of Directors for the Alabama Highland Games, founding president of the Nauvoo Historical Society, a member of the Board of Directors of Walker County Arts Council, and vice chair of the Tourism Task Force of the Walker County Chamber of Commerce. In addition, she was treasurer and chair of the Budget and Finance Committee, and vice president of the Capital City Republican Women. She was a member of the Walker County Rehab Center, the Landmarks Foundation in Montgomery, the Alabama Federation of Republican Women, the National Trust for Historic Preservation, and the National Parks Service. She served as a volunteer administrative assistant with the Alabama Coalition of Domestic Abuse Shelters of the Montgomery Area Family Violence Center.

Ms. Dillon enjoyed historical preservation, preserving Scottish heritage, traveling, writing, and performing and visual art. She is included in Who's Who in Finance and Industry, Who's Who of American Women, Who's Who of the World, America's Registry of Outstanding Professionals and Five Hundred Leaders of Influence. A proud Scotswoman and an avid historian, Ms. Dillon became the owner of the William Cook house in Nauvoo, Alabama, her family home, in 1989.

Thanks to her tireless efforts, it is now listed on the Alabama Register of Significant Homes in 1990 and was then named The William Cook House. In 1995, it was admitted into the Birmingham Industrial Heritage District. Documented by the Birmingham Historical Society, the United States Department of the Interior, the Historical American Building Survey, and the Historical American Engineering Record, the house is featured in the Birmingham Historical Society's Birmingham Bound. Ms. Dillon also commissioned the play "Amazing Grace", written by Charlene Redick, which dramatized the Scottish settlement of the Southeastern United States through the story of the William Cook Family.

The family would like to thank the staffs of Vista Care Hospice and Crowne Nursing home for the care they provided to Ms. Dillon. Also, a very special thanks to Bernice Bailey for the tireless care and compassion she gave to Ms. Dillon over the past 9 years. In lieu of flowers, the family would prefer memorial contributions to The Family Sunshine Center, P.O. Box 5160, Montgomery, AL 36103 or the Montgomery Humane Shelter, 1150 John Overton Dr., Montgomery, AL 36110.
Published in the Montgomery Advertiser on February 7, 2013