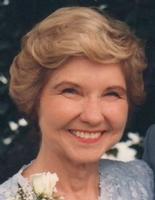 Mrs. Syble R. Farrow of Auburn, Alabama, passed away peacefully at her home on July 4, 2019. Throughout her life, she was a beautifully-independent woman with a firm handshake, a devoted and faithful servant to God, and an endless spring of love and tenderness for everyone she met. For nearly a century, Mrs. Farrow graced communities across this country with her southern charm.
Born in Sylacauga, Alabama, her family relocated to Montgomery shortly thereafter; and she graduated from Sidney Lanier High School. As the wife of military pilots, she single-handedly raised four children; providing their anchor of love, stability, and southern comfort in homes that spanned Montgomery, Atlanta, Laredo, Seattle, and 40 years on the Palos Verdes Peninsula in Southern California. Mrs. Farrow nurtured close-knit extended family and neighborhood friendships. She was a longtime member of congregations at Rolling Hills Covenant Church (Palos Verdes Estates, California) and Lakeview Baptist Church (Auburn, Alabama).
Mrs. Farrow's warm and friendly smile welcomed everyone, her sparkling eyes and lilting voice captivated a room. Her gift for conversation engaged you in trust that her interest in you was genuine; she gave you the stage and her undivided attention. As just one example, in the first meeting with a son's friend - a farrier by trade, and man of few words – Mrs. Farrow effortlessly captured him into a conversation revealing his college degree in Russian Literature and his spot on the Farrier Team for the Olympic Games. He spoke with ease to her about the many, varied aspects of his life; and she was sincerely interested in all of them.
In parenthood, Mrs. Farrow put on a clinic. Her lifelong devotion to children is encapsulated in her reminder: "If not a parent, then who?" She offered tender suggestions for developing new friendships. She skillfully negotiated compromises, and rarely said no. Faced with mediating a cake-sharing dilemma between two of her sons, Mrs. Farrow adroitly suggested, "You get to slice the cake into two pieces, and your brother gets to choose his slice first."
Mrs. Farrow was preceded in death by her parents, James Raley and Epsie Hixon; and her siblings, Louise, Lil (Crawley), Henry of Montgomery, AL, and Helen (Harman) of Lexington, NC; and by her husbands, John McEachern, Al Somppi, and John Farrow.
She is survived by her children: Michael McEachern (Rose Ann) of Roswell, Georgia; Willie McEachern (Monika) of Eugene, Oregon; Ken Somppi (Anna) of Auburn, Alabama; and Kenlyn (Emerson) of Washington; and by her ten grandchildren and great-grandchildren.
A celebration of Mrs. Farrow's life and the love she showered on us will take place anytime we think of her fondly and smile (preferably over a warm pumpkin muffin and a big glass of milk). We extend her grace every time we share the gift of kindness and our undivided attention to someone else.
A memorial service will take place in the chapel of the Jeffcoat Trant Funeral Home in Opelika, Alabama, on July 13, 2019, at 1:00 pm, with Reverend Cliff Knight officiating and followed by a graveside service at Memorial Cemetery in Montgomery, Alabama. Visitation will be one hour prior to the memorial service, beginning at 12:00 pm, July 13th, at Jeffcoat-Trant Funeral Home.
In lieu of flowers, the family suggests a donation to local hospice care or the Parkinson's Foundation.
Jeffcoat-Trant Funeral Home and Crematory directing.