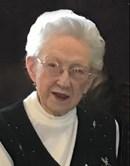 Miss Virginia McLean, age 96, a resident of Bessemer, Alabama, died peacefully on January 15, 2020. She was born January 1, 1924, in Montgomery, Alabama, to the late Perry D. and Inez Ansley McLean. She was a graduate of Sidney Lanier High School (1941) and Huntingdon College, Class of 1945. She received her master's degree from Teachers College, Columbia University in 1950.
Miss McLean was a staff member at Huntingdon College for seven years before moving to Birmingham in 1953. After working several years in the Bond Department of the First National Bank of Birmingham, she entered federal service with the Social Security Administration, from which she retired in 1986.
Miss McLean was a member of the First United Methodist Church, Birmingham, for more than 60 years, a former member of the Administrative Board, and a member of the Bethany Bible Study Sunday School Class. She was a long-time volunteer in the library at the Birmingham Botanical Gardens.
In addition to her parents, Miss McLean was predeceased by her brother, Frank Ansley McLean and her sister, Dorothy McLean Perry.
She is survived by four nieces, Dianne Perry Wammack (Dennis), Birmingham; Ann McLean Spear, Safety Harbor, FL; Peggy McLean Reynolds, Woodstock, GA; Mary Frank McLean Crew (Brad), Prattville, AL; three godchildren, Robert Dunn, Paul Dunn (Mimi), Virginia Dunn Curtis (Scott), all of Birmingham; and a number of great and great-great nieces and nephews.
Her body was donated to the UAB Anatomical Donor Program.
A memorial service will be held in St. John's Chapel, FUMC, Birmingham, on Saturday, February 8, 2020, at 1:00 PM. Visitation will be one hour following the service.
In lieu of flowers, the family requests that any memorials be made to:

FUMC
518 North 19th Street
Birmingham AL 35203

United Methodist Children's Home
3140 Zelda Court
Montgomery AL 36106
Published in The Birmingham News on February 2, 2020.