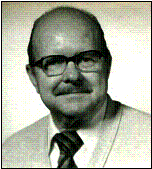 Charles W. Stripling
11-20-1920 to 11-20-2012
Charles W. Stripling was born and grew up in Montgomery, AL graduating from Sidney Lanier High School in 1939. While in high school and for several years after, he worked at a Montgomery architectural firm to earn money for college. In 1941 during WW2, his father was hired to manage Coosa Court, a new federal housing project for defense-plant workers and the family moved to Childersburg, AL. There Charles met his wife-to-be, Jo Holliday, whose family lived nearby.
Charles had just started his architecture studies at Auburn in 1941 when he was drafted. He entered the Army in 1943 and served in the 308th Engineers Regiment, attached to the 79th Division, landing in Normandy one week after D-Day. His regiment followed the front lines as far as Czechoslovakia when the war ended in 1945. An excellent draftsman, he was engaged in drawing and distributing updated maps to advancing units.
After the war, he pursued his interrupted architecture degree, completing his studies in early 1949, and marrying Jo later that spring. He worked for four years for a firm in Meridian, MS before moving to Tallahassee in 1953 to work for his uncle, James Stripling. Through self-directed study, he was able to qualify for a job in 1960 as an architectural planning consultant with the Florida Department of Education, designing and inspecting schools. He retired in 1983 after 23 years of service. A bundle of complimentary letters from school personnel was a testament to the quality of his abilities and service.
He designed his own home at 1712 Kathryn Drive and approximately 50 others in Tallahassee, including the home-studio of Tallahassee artist, Ralph Hurst. In addition to his work for the state of Florida, he taught drafting at Lively Vocational/Technical School and did freelance home design work for developer, Fred Turner of Century Construction. He taught himself photography and kept a darkroom in his home, collected stamps and was adept at small woodworking projects. He loved Sherlock Holmes mysteries, performing yo-yo tricks and keeping a tidy yard.
Charles and Jo had two sons – Parris, born 1951, and Dorian, 1956.
The couple cherished a long-awaited trip to Italy in 1978 and in retirement, they traveled throughout the U.S. Charles wrote and illustrated a memoir about his war experiences and presented several programs to the Tallahassee WW2 Club. He donned his Army Eisenhower jacket every Veterans' Day.
Charles was an "old-school" gentleman with a quiet sense of humor. He valued face to face relationships, kept his promises, paid bills on time and never borrowed more than he could repay.
Charles died on his 92nd birthday. His wife of 63 years, Jo Holliday Stripling, died just a month after his passing, on December 19. They are buried at Culley's MeadowWood in Tallahassee.
Charles was preceded in death by his parents, Charlie and Lucile Manning Stripling, and older son, Parris. He is survived by Dorian and his wife Kathy, Ames, IA and his sister, Grace Limbaugh, Sylacauga, AL.