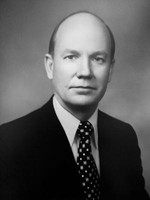 James Thomas "Tom" Brassell, 92, lifelong resident of Montgomery, Alabama, died on May 12, 2014, surrounded by his family listening to the hymns he so loved and cherished.
He was predeceased by his wife of 66 years, Alice Melva Owens Brassell; parents, Ellen Lowery and Robert Nelson Brassell; brothers, Frederick Harvey "Fred" Brassell, Robert Nelson Brassell, Jr. and sister, Ellen Eugenia "Sis" Brassell Jancaterino.
He is survived by daughters, Maria Brassell Ashmore (John) of Montgomery, Alabama; Nancy Brassell Barnes (Ernie) of Huntsville, Alabama; Beth Brassell Joiner (Andy) of Birmingham, Alabama; son, James Thomas "Tommy" Brassell, Jr. (Denise) of Pike Road, Alabama; brothers, William G. "Bill" Brassell (Jean) of Phoenix, Arizona; Charles L. Brassell (Janis) of Montgomery, Alabama; Malcolm S. Brassell (Lynell) of Montgomery, Alabama, and Samuel E. "Sam" Brassell (Gay) of Wallsboro, Alabama.
He is also survived by his grandchildren, John Britton Ashmore of Birmingham, Alabama; Thomas Peyton Ashmore (Cammie) of Montgomery, Alabama; Preston Tyler Ashmore (Tiffany) of Wetumpka, Alabama; Ernest Mobley "Ley" Barnes, IV of Atlanta, Georgia; Geoffrey Walter Barnes of Destin, Florida; James Thomas "Jamie" Brassell, III of Montgomery, Alabama; Patrick Ryan Brassell of Pike Road, Alabama; Kelley Elizabeth Joiner of Madrid, Spain; Thomas Andrew Joiner of Birmingham, Alabama; John Owen Joiner of Birmingham, Alabama and his great-grand-children Brayden, Braxton, Brynlee Ashmore, and Colton and Collier Ashmore. He is also survived by numerous nieces and nephews.
He was born the second child to Ellen Lowery and Robert Nelson Brassell on June 30, 1921. He graduated from Sidney Lanier High School in 1939. He finished finance training at Wake Forest College in North Carolina and then went to Army Finance Officer Candidate School at Duke University while serving in the military for four years during WWII. He was recalled for a short period during the Korean Conflict and ultimately reached the rank of Major as a Finance Officer attached to the Army Air Corp.
Tom spent his working years with the State of Alabama where he installed the first computer in the state and ultimately qualified as a Certified Data Processor. He was Assistant Finance Director during the administration of Governor Albert Brewer, supervised the Consumer Affairs Division of the Office of the Attorney General and was instrumental in crafting a consumer protection bill that was sent to the legislature during the administration of Attorney General Bill Baxley. When Gov. Fob James merged the Governor's Office of Consumer Protection with the Attorney General's Consumer Protection Division, Tom organized and served as Chief of the merged divisions under Attorney General Charles Graddick. He was appointed State Comptroller in 1980 and served in that position until his retirement in 1987. He returned to service for a short period to assist the Finance Director, Robin Swift, in the creation and development of a Risk Management Division. Many of his contributions were made behind the scenes as it was his idea to organize the state motor pool, enabling the state to sell off hundreds of cars that had been used full time by state employees and he was the impetus behind efforts to reclaim for the State and its taxpayers the oil and gas-rich land known as Grant's Pass in Mobile Bay. Tom often referred to himself as a "rightist", but did not mean it in the political sense. He meant there was a right way and a wrong way to spend tax dollars, and he said he always lined up the right way. He was honored in 1986 by Jacksonville State University as the Outstanding State Employee of the Year.
Tom served three terms as Chairman of the Board of Deacons at Highland Avenue Baptist Church, taught Sunday School for fifty years and held many positions of responsibility in the church. Additionally, he was a founding member of McGehee Road Baptist Church, Montgomery, Alabama. He was President of the Montgomery Exchange Club and was the longest serving member in its history with over 60 years of service. During his long tenure he received many local and statewide awards for his exemplary service to the community, education, religion and Exchange projects and he was instrumental in the founding of the first Educational Television Station in Montgomery. He was President of the PTA at both Robert E. Lee High School and Capitol Heights Junior High School. He served as President of the Genealogical Society (a passion of his), Montgomery Community Council, Data Processing Management Association and the Alabama State Employees Credit Union which he served for forty years. He served on the United Way Board of Directors and was an active participant in many campaigns. He was appointed to many State Boards including the State Credit Union Board by gubernatorial appointment, Criminal Justice Information System, Picture Drivers License, Implied Consent and many more.
He was a semi-pro baseball player in his younger years and played with many state championship baseball and softball teams, as well as organized Montgomery's first Little League baseball club some 60 years ago. He remained active in sports until his mid-sixties.
The family wishes to express special thanks to Sharon Christian, Ruby Wigfall and Angela Jordan for their devotion to caring for him during the past years and to Dr. James Mracek II, Beth Morris, R.N. and Southeast Hospice Network for their attentiveness and healthcare during his most recent illness.
Visitation will be Friday, May 16th from 4-7 pm at Leak Memory Chapel. Funeral Services will be Saturday, May 17th at 1 pm with Dr. Sam Brassell officiating at Leak Memory Chapel with burial following in Greenwood Cemetery. Pallbearers will be his grandsons with great-grandsons serving as honorary pallbearers.
Published in the Montgomery Advertiser from May 15 to May 17, 2014