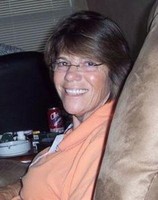 Loved Greatly, And Greatly Loved
Rosemary (Kay) Mecher Burns
October 11th, 2013
Rosemary Kay Mecher Burns was born in Muskegon, Michigan, March 5rd 1962 to George and Lillie (Roschelle) Mecher. She was the third of three children.
She passed away on October 11th, 2013, at the Hope Hospice in Lehigh Acres, Florida, after a long and painful struggle with Multiple Sclerosis.
Kay grew up in Montgomery and Eclectic, Alabama, and spent much time at her favorite place, Lake Martin, where she met her lifelong friend, Brenda Mitchell.
She graduated Sydney Lanier High School in Montgomery in 1980 and was in the marching band of Troy University.
Kay married John Burns of Lucedale, Mississippi in January of 1989, and moved to Lehigh Acres, Florida, where she lived the remainder of her life. She was well known and well liked in her community.
Kay is survived by her three children, Kara Rene Munro, Rachel Kay Burns, and Jacob Mecher Burns, as well as her two step children John Stephen Burns Jr. and Anna Marie Donaldson, and her two sisters, Cynthia Perfetto of Macon, Georgia, and Annette Lazenby of Deatsville, Alabama, her brothers-in-law, Felix Lazenby and Richard Perfetto.
She had two nieces, Chris Lochamy and Elizabeth Whisler, and two nephews, David and Wesley Lazenby.
Kay was a friendly and outgoing person, making friends wherever she went.
She is sorely missed.
Published in The News-Press on October 12, 2014