Patricia Ansley Freitag was born October 13, 1942 in Biloxi, Mississippi to Arthur and Virginia Ansley. She was the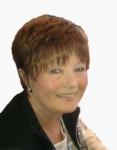 oldest of three girls. The family eventually moved to Montgomery, Alabama where Patricia attended Sidney Lanier High School. In 1960 Patricia started her freshman year at her beloved University of Alabama.
She began her career in the equipment rental business which took her first to New Orleans and then on to Houston. While working as a Vice President at Gaedcke Equipment she met B.J. Freitag. They were married on January 1, 1981 and began their 30 years of happiness together.
Patricia was active in many community, professional and political organizations. She held the position of President in the National Association of Women in Construction as well as Republican Women of Horseshoe Bay. She served as Vice President of the Houston Rental Association. Additionally, she served on the boards of The Church at Horseshoe Bay, Seton Hospital Development, Houston Association of Credit Management and Horseshoe Bay Property Owners

Association. She volunteered her time at the local women's shelter, organized and participated in fundraisers for the organization and served on their Board of Directors.
She was an integral part of the organization and formation of the Telecare program in Horseshoe Bay which continues to provide a daily phone call to those who live alone or are elderly or disabled.
Patricia took her civic duty seriously as she served for 3 months on the Grand Jury in Houston.
In 1984 B.J. and Patricia retired and moved to Horseshoe Bay where they lived there for 15 years and then decided to explore the United States by motor coach. They left Texas and moved to Seascape in Miramar Beach, Florida. While there, they spent the next ten years tailgating at the Alabama football games in the fall and exploring the United States the rest of the year.
Patricia is survived by her husband, B.J. Freitag; mother Virginia Boone; sisters, Connie Thompson and husband Dr. H.B. Thompson; Ginnye Capps and husband Bo; nephew Scott Capps; great nieces, Haley and Camryn Capps; step-children Linda Horton and husband Art, Debbie Baker and husband Rick, Pam Dyson and husband Brad; numerous grandchildren, greatgrandchildren and an abundance of friends who she considered family. Patricia was preceded in death by her father Arthur Ansley and niece Tamara Ansley Thompson.
Now she rests in the hands of the Lord. Your presence at this Memorial Service is a reminder that God's love is clearly seen in those who care. Memorial donations may be made to the Tamara Ansley Thompson Scholarship Fund at The University of Alabama, the General Scholarship Fund at The University of Alabama, Hope Lodge of Birmingham, or The Church at Horseshoe Bay.