Class of '70 50-year Reunion
Change the Dates to
August 14-16, 2020
Corona Virus Update
The Reunion is Moving to August 14-16, 2020
Your classmates sincerely hope you, your friends and family are healthy during these potentially stressful times.
As a precaution during the COVID-19 coronavirus outbreak, we are moving the 1970 50-year Reunion to August 14-16, 2020. Unless otherwise instructed by local public officials, please change your Reunion plans to this weekend in August. If you made reservations at the Renaissance or Homewood Suites Montgomery, an attempt is underway to transfer your reservations. So please standby for further instructions.
During this outbreak, we are asking everyone to help bring calm to the community and assist others if you are able, while at the same time remaining safe.
For questions and maybe some answers, please contact:
Mack Sturdivant (251) 802-4440
Pam Corwin Fellows (863) 559-1536
Stan Robinson (615) 300-0422
________________________________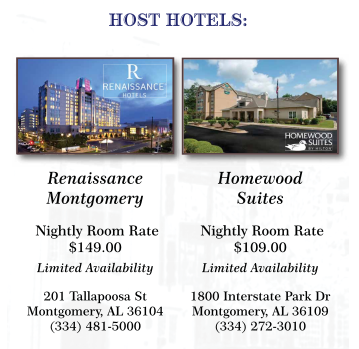 ________________________________
Sidney Lanier High School
Class of 1960 - 60th Reunion
POSTPONED
April 17-18, 2020
Montgomery, Alabama
April 17th. 5:30 PM. Jubilee Seafood.
Meet & Greet and short program followed by buffet dinner.
April 18th. 11:00 AM. Montgomery Country Club.
Bloody Mary's, Coffee and brunch.
Additional information will follow!
If you have questions, please contact
Ann Covey Reese, anncreese@hotmail.com (334) 272-7050, or
Sharon Healey Bartholomew, healey4@earthlink.net (760) 751-9237
________________________________
________________________________
Send private messages to Classmates!
It's free and secure! Your email is never revealed!
Login-in and click on Message Center!
Need a Login? Register Here!
________________________________
THE LANIER ALMA MATER
Dear Lanier, though fleeting time
May bear us far away from thee
Forever in thy hallowed halls
Each heart will dwell in loyalty.
Faithful to the blue and white We will be.
And before thy shrine of knowledge
We will kneel to thee

Alma Mater, thy standard waves
Triumphant through each passing year;
We love thy spirit, true and brave,
Thy courage through each threatening fear,
We will hold when we began our lives anew,
Memories of the sheltering walls,
And of thy friendships true.

Georgia Wagner Morgan - Music 1928
Louise Shepherd Fleming - Words 1928