Sidney Lanier HS - Alumni Montgomery Alabama
All Sidney Lanier High School Alumni Invited To
Alumni Reception at Sidney Lanier High School
September 25, 2014 at 6:00 p.m.
Please Attend
Send private messages to Classmates!
It's free and secure! Your email is never revealed!
Login-in and click on Message Center!
Need a Login? Register Here!
Class of 1995 20-Year Reunion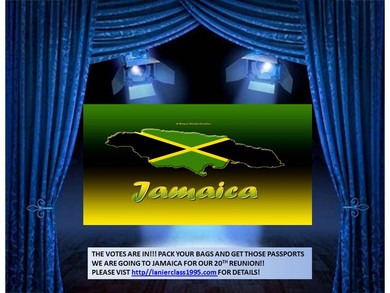 The Votes Are In!
Pack Your Bags &
Get Those Passports
We Are Going To
Jamaica For Our
20th Reunion!

Please Visit LanierClass1995.com
THE LANIER ALMA MATER
Dear Lanier, though fleeting time
May bear us far away from thee
Forever in thy hallowed halls
Each heart will dwell in loyalty.
Faithful to the blue and white
We will be.
And before thy shrine of knowledge
We will kneel to thee

Alma Mater, thy standard waves
Triumphant through each passing year;
We love thy spirit, true and brave,
Thy courage through each threatening fear,
We will hold when we began our lives anew,
Memories of the sheltering walls,
And of thy friendships true.

Georgia Wagner Morgan - Music 1928
Louise Shepherd Fleming - Words 1928
Forever Blue has just been published.
It is a great read about one of our most storied student, coach and alumnus, Bill Moseley (Class of 1941). Dust off the old memories of yester-year in Montgomery and enjoy the stories straight from Coach Moseley as he dictates them to his son Willie G Moseley (Class of 1968).
Forever Blue was released in December of 2013 by New South Books. It is available in soft cover and as an ebook. Click on the link below to order.
For information on signed copies, contact willie@vintageguitar.com.
Chemical Guys Auto Detailing Supplies & Car Wash Chemicals