Sidney Lanier HS - Alumni Montgomery Alabama
---
---
Class of '75 Plans - 40-yr Reunion
Registration for all events is only $80 per person for the weekend. This includes Registration, Gift Bag, Friday Meet and Greet, Saturday Night Banquet Buffet, Ballroom events.
All registrations should include:
Checks payable to Rebecca Cairns.
Your Name, Address, Contact Information, & email.
Mail to: Becky Cairns
534 Lee Co Rd 257, Opelika, AL 36804
eMail info & questions to: becky56cairns@gmail.com
---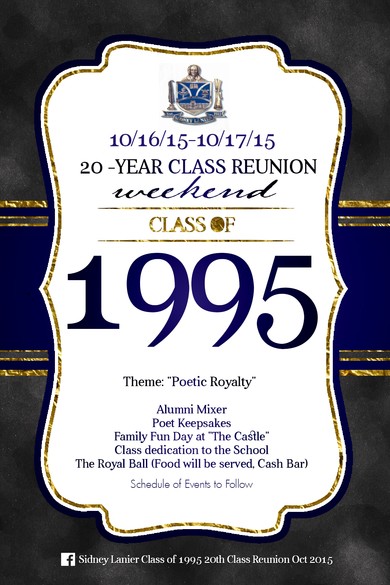 ---
Class of 1995 20-Year Reunion Cruise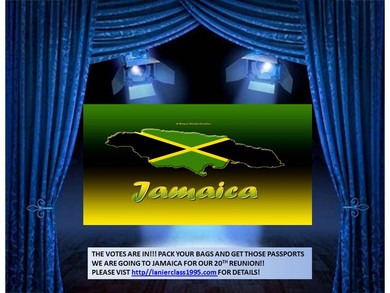 The Votes Are In!
Pack Your Bags &
Get Those Passports
We Are Going To
Jamaica For Our
20th Reunion!

Please Visit LanierClass1995.com
---
---
Two very good Lanier stories I have just posted under Miss Kate Clark's profile in Teacher Profiles. I found HER OWN WRITTEN VERSION OF BOTH:
One of the two most famous stories of Old Lanier is the story of Miss Kate Clark's panties falling down to her ankles in class in the 1950s.
As to the second, Miss Clark also says that the story of Miss Terry's breaking her arm while illustrating a "dangling participle" is false.
---
---
THE LANIER ALMA MATER
Dear Lanier, though fleeting time
May bear us far away from thee
Forever in thy hallowed halls
Each heart will dwell in loyalty.
Faithful to the blue and white We will be.
And before thy shrine of knowledge
We will kneel to thee

Alma Mater, thy standard waves
Triumphant through each passing year;
We love thy spirit, true and brave,
Thy courage through each threatening fear,
We will hold when we began our lives anew,
Memories of the sheltering walls,
And of thy friendships true.

Georgia Wagner Morgan - Music 1928
Louise Shepherd Fleming - Words 1928
---
---
Send private messages to Classmates!
It's free and secure! Your email is never revealed! Login-in and click on Message Center! Need a Login? Register Here!
---