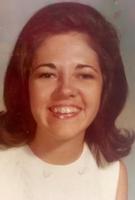 Elizabeth Hewitt McCarty Davis passed away on Monday, July 23, 2018, in Rogers, Arkansas. A native of Birmingham, Alabama, Liz lived much of her life in Montgomery and taught at Sidney Lanier High School from 1961-74. In 1988, Liz suffered a traumatic brain injury in a car accident leaving her permanently disabled. Her favorite word was "determined" which she exhibited in her perseverance to rehabilitate.
Liz was preceded in death by her parents John Peyton McCarty and Martha Henley McCarty.
She is survived by her husband, Donald Gene Davis; her sons, John Judson Davis (Barbara) of Montgomery and Donald Matthew Davis (Amy) and grandsons Jackson and Marshall Davis of Bentonville, Arkansas.
A celebration of Liz's life will be held at 1:00 on Monday, August 6, 2018, at St. Vincent de Paul Catholic Church in Rogers, AR with visitation following in the church hall.
In lieu of flowers, memorials may be sent to:

Condolences for Don may be sent to:
Published in the Montgomery Advertiser on August 4, 2018.