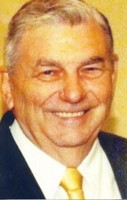 Enoch Frank Rountree, Jr., CW04 retired, passed away Tuesday, November 11, 2014, at his home with his family by his side. Frank was born on November 20, 1929, in Montgomery Alabama, son of the late Enoch Frank Rountree, Sr. and Sarah Rebecca Smith Rountree. He was predeceased by his brother William Doyce Rountree.
Survived by his wife of 59 years, Nell Bowdoin Rountree; three daughters, Zandra (Kenneth) Bryant, Fran Rountree, Carol (Glenn) Arnette; and son Phillip Frank (Paula) Rountree; Eight grandchildren, Jennifer (David) Hasler, Julie and Katie Bryant, Charles B. Salter III, Kelly (Matthew) Forester, Karla (Woody) Woodruff and Georgana and Lalah Rountree; Four great grandchildren; Christian and Jonathan Hasler, Kathrine and Caroline Forester; and his dog Dixie Boy. Frank is also survived by numerous cousins and extended family members.
Frank graduated from Starks Military School and attended Huntingdon College. He was in the Alabama National Guard 31st Dixie Division when activated during the Korean Conflict. He continued in the National Guard as a full time employee for over 39 years, retiring from the CSMS in Montgomery. His last unit was the 731st Maintenance in Tallassee, Alabama. He was awarded the Commendation Medal with Oak Leaf Clusters. Frank was an active member of Frazer Memorial UMC, former member of the Sanctuary and Speeders Choir. He was a beloved husband, father, grandfather and great grandfather.
The family would like to thank their church family, neighbors, Southeast Hospice, Beth Morris and Carla McCullough for their excellent care.
Celebration of Life service will be held at Frazer Memorial UMC on ¬Friday, November 14, at 2:00. Visitation will begin at 12:30. Burial will be in Greenwood Cemetery.
In lieu of flowers, please make a donation to Southeast Hospice, Frazer UMC (In Christ Way or Music Ministry) or to the Alzheimer's Association , P.O. Box 96011, Washington D.C. 20090-6011.
Love Is Eternal
Online condolences may be offered at www.leak-mc.com. Leak Memory Chapel Directing.
Published in the Montgomery Advertiser on Nov. 13, 2014.