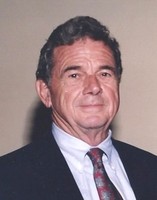 Wylie Dixon Poundstone, died January 5, 2014 at the Bill Nichols Veterans Home in Alexander City, AL at age 88. He is survived by his wife of 65 years, Lore Henderson Poundstone; two children: Wylie Dixon Poundstone, Jr., Haygood Paterson Poundstone, his wife, Beth, and Son-In-Law Jack Darrell "Skip" Parks and one sister, Myrtle Poundstone Ridolphi; seven grandchildren and four great-grandchildren. He was preceded in death by his daughter Lore Poundstone Parks; three brothers, Dave Johnson Poundstone, Robert Emmett Poundstone and Phillip Paterson Poundstone.
Wylie was born in Montgomery attended Sidney Lanier High School and Auburn University where he was a member of the Phi Delta Theta Fraternity. He served in World War II and received the Purple Heart during his service. He served as the Chairman of the Advisory Board for the Alabama Conservation Department for 18 years and also served as President of the Montgomery Country Club. Wylie loved life, his family, friends, fishing, and hunting. He also loved serving First Baptist Church as the Director of the Poundstone Sunday School Class. The men of that class blessed him each and every Sunday. A Memorial Service will be held at First Baptist Church, Montgomery, AL on Wednesday January 8th at 11:00 am with Jay Wolf and John Ed Mathison officiating.
Honorary Pallbearers will be the members of the Poundstone Sunday School Class at First Baptist Church, Montgomery.
In lieu of flowers the family has requested memorials be sent to The Community Ministries of First Baptist Church, 305 South Perry Street, Montgomery, AL 36104. On line condolences may be made at www.LEAK-MC.com.
Published in the Montgomery Advertiser on Jan. 7, 2014