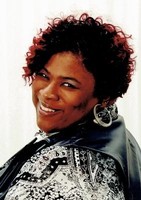 Ms. Chauntye Watson, of Montgomery, Alabama was called home to be with the Lord October 27, 2014.
She leaves to cherish her memories: a devoted mother, Janice Franklin; step-fathers, Billy J. Morgan and Larry J. Faison; step-mothers, Pamela Faison and Cynthia Watson; seven sisters, LaCara Faison, Briana Morgan, Stacy Morgan, LaShaunda Duncan, LaKeisha Auls, Tamara Pitts and Tatiana Pitts; four brothers, Quartez Watson-Harris, Fredricus Markez Jiles, Artez Pitts, Keith Morgan (Tracy), Suitland, MD; aunts and uncles, LaTorya Franklin (Terry), Robert Franklin, Larry Franklin, Mary Bell (Ray), Patricia Simmons, Johhny Watson, Larry (Doreatha) Watson, Daniel Watson, Kevin (Maris) Woolfolk, Reggie (Annette) Helms, Joesph (Toni) Helms, Charles (Priscilla) Shipman, and Larry Shipman, Aretha Williams, Joann Howard, Renee Watson (Jessy) Frazilus and Stacey Watson; devoted god children, Brandon Franklin, Derek Brook, Jr.; special friends, Jabretta Hartley, D'Shanty Marshall, Lastella Paradise-Watson, Tangela Williams Brooks, Tomeka Williams; special cousins, Teresa Franklin Brooks, Lisa Mock and a host of cousins, nieces, nephews, and other relatives and friends.
Funeral services will be held November 1, 2014 at 12:00 Noon from Restoration Baptist Church, 164 E. South Blvd., Montgomery, Alabama. Interment will follow in Eastwood Memorial Gardens. Ms. Watson will lie in repose at the church one hour prior to the funeral service.
Published in the Montgomery Advertiser from Oct. 28 to Oct. 31, 2014.