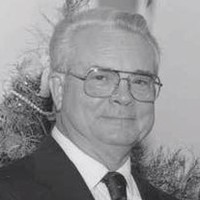 Milton Benjamin "Ben" Slauson, (85) passed from this life on Wednesday, April 20, 2011. He was preceded in death by his parents Arrie Elizabeth Suggs Slauson and George Benjamin Slauson; his brothers, George, Lonnie Sr., Wilbur Sr. & Claybon Slauson; his sisters, Evelyn Vickers & Inez Palmer; his first wife of 42 yrs and mother of their 5 children, Georgia Katherine "Kate" Lord Slauson; his second wife of 13 yrs, Eleanor Head Jamieson Slauson; his third wife of 10 yrs Helen Gilliland Eiland Slauson and his son-in-law Keith McAlister.
Ben is survived by his 8 children: Milton (Linda) Slauson of Wetumpka, AL; Gary (Glenda) Slauson and Mark Slauson, all of Montgomery, AL; Cheryl McAlister of Prattville, AL; Tim (Debbie) Slauson, of Wetumpka, AL; Leo (Rosemary) Jamieson of Prattville, AL; Melissa (Bruce) Faulk of Montgomery, AL; Don Gilliland of Fort Lauderdale, FL; 18 grandchildren: Shannon Hatfield, Karyn (Jay) Murphree, Ben H. (Wendy) Slauson, Lisa Hudson, Bret (Crystal) Paulk, Amy (Todd) Newsom, Jason Paulk, Crystal (Cody) Worthington, Beth (David) Schreck, Molly Slauson, Kerra Slauson, Katie Slauson & Arrie Slauson, Lee (Kathy) Jamieson, Mark (Suzy) Jamieson, John (Allison) Faulk, Emily (Shawn) Maxwell, Scott Gilliland; 12 great grandchildren: Dillon & Meagan Hatfield; Joshua & Connor Murphree; "Ean" Benjamin Slauson; Benjamin "Micah" & Chase Newsom; Bella Worthington; Kevin, David, Lee Jr. & Madelaine Jamieson and many nieces, nephews and friends.
The funeral service will be held at Dalraida Church of Christ, 3740 Atlanta Highway, Montgomery, AL 36109 on Saturday, April 23, 2011, at 2:00 p.m. with visitation held two hours prior and officiated by his nephew Roy Slauson.
Honorary pallbearers will be the Blue-Gray Montala Civitan Club, Dalraida Church of Christ Deacons & Elders (Present/Retired), Carl Head, Lonnie "Buddy" Slauson, Jr. & Frank Williams.
Pallbearers will be his grandsons: Ben H. Slauson, Bret Paulk, Jason Paulk, Lee Jamieson, Mark Jamieson, John Faulk & nephews: Craig Hawkins & Wilbur, Jr. "Bo" Slauson.
Burial will be at the Montgomery Memorial Cemetery.
In lieu of flowers, memorials may be made to Alabama Christian Academy: 4700 Wares Ferry Rd 36109, Amridge University: 1200 Taylor Rd 36117; Faulkner University: 5345 Atlanta Hwy 36109, all in Montgomery, AL or your favorite charity. Leak-Memory Chapel Directing www.leak-mc.com