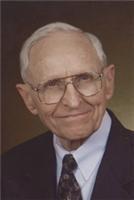 TUSCALOOSA | Reverend Jack Wilbanks Shannon age 88, of Tuscaloosa, Ala., passed away on September 6, 2014 at Hospice of West Alabama. The celebration of his life will be held on Wednesday, September 10, 2014 at 11 a.m. at Calvary Baptist Church with Dr. Tim Lovett and Rev. Rod Poovey officiating. Private burial will follow at Memory Hills Gardens with Memory Chapel Funeral Home directing. Visitation will be on September 9, 2014 in the Calvary Baptist Church Allan R. Watson Youth Annex from 6:30 p.m. to 9 p.m.
Jack was preceded in death by his parents, Guy A. and Lila Mae Wilbanks Shannon and a brother, Guy Shannon, Jr., all of Montgomery.
"GrandJack" is survived by his wife of 65 years, Eula Carter Shannon; their children, Don Shannon (Terri) of Huntsville, and Melanie Shannon Metz (Paul) of Dallas, Texas; five grandchildren, Brad Shannon and Melanie Page Shannon of Huntsville, Bethany Broussard (Adrien) of South Haven, MS, Jonathan Metz (Kristi) and Carter Metz of Birmingham; a great granddaughter, Addie Grace Shannon of Huntsville; a sister, Betty Claire Paden of Birmingham; a brother, Donald G. Shannon (Martha Jane) of Dothan; a sister in law, Connie Pike of Tuscaloosa; and many beloved cousins, nieces, nephews, great nieces, great nephews, and "adopted" children and grandchildren.
Jack was born on February 4, 1926 in Montgomery, Alabama. Following his graduation from Sidney Lanier High School, he enlisted in the United States Marine Corps and fought in Iwo Jima, during which he was awarded the Purple Heart. Following his military service, he earned degrees from Baylor University, Southwester Theological Seminary and The University of Alabama. He served on the staff of First Baptist Church of Jacksonville Beach, FL and First Baptist Church of Andalusia before being called to serve at Calvary Baptist Church in Tuscaloosa. He retired from Calvary Baptist Church in 1989 after serving on staff for 32 years as Minister of Education and later as Minister to Senior Adults.
A true man of integrity, Jack humbly served his Lord, his family, his church, and the Tuscaloosa community for over 57 years. He was lovingly known as "GrandJack" by his grandchildren, and by many others he loved as if they were his own.
Pallbearers will be Brad Shannon, Jonathan Metz, Carter Metz, Paul Metz, Adrien Broussard, and Danny Pike.
Honorary Pallbearers will be longtime friends at Calvary Baptist Church and Mr. and Mrs. Bryan Graham.
The Family expresses their deepest appreciation to Dr. Keith DeBell, Dr. Steve Ikard, the 4th and 7th floor staffs of DCH Regional Medical Center, DCH Surgical ICU, and to the staff of Hospice of West Alabama for the wonderful care provided before GrandJack's journey home. We would also like to offer a special word of thanks to the many friends and family who have offered support during this time.
In Lieu of flowers, contributions will be welcomed to Calvary Baptist Church and Hospice of West Alabama.
Condolences may be offered at www.memorychapelfuneralhome.com
Published in Tuscaloosa News from Sept. 7 to Sept. 8, 2014