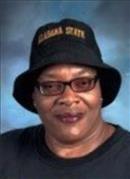 Shirley "Elayne" Tolliver Thomas, a resident of Montgomery, Alabama, was welcomed into the Heavenly Kingdom on October 4, 2016. She was preceded in death by her husband, King Charles "K.C." Thomas and her mother, Catherine Ivery Tolliver.
Funeral services will be held Mon., Oct. 10, 2016 at 11:00 AM from Mt. Zion AME Zion Church with Pastor Claude Shuford officiating. Interment will follow in Eastwood Memorial Gardens with the staff of Phillips-Riley Funeral Home directing. Elayne remains will lie in repose one hour prior to funeral services. Visitation will be held on Sun., Oct. 9, 2016 from 11:00 AM - 6:00 PM.
Countless will revere Shirley's moments, including one devoted daughter: Eboni L. Matthews, Montgomery, AL; one loving son: Charles Gminski Thomas, Mobile, AL; two devoted grandchildren: Kierra and Aarius Matthews, both of Montgomery, AL; a loving father: Walter Butch Tolliver, Montgomery, AL; five loving sisters: Regina, Gail, Yvette, Pamela, and Lynn Tolliver, all of Montgomery, AL; two brothers: Craig Tolliver, Arlington, TX and Darryl Tolliver, Auburn, AL; one step-sister: Racine Stallings, Montgomery, AL; one devoted niece: Dr. Jera Lacole(Donell) Scott, Montgomery, AL; two caring nephews: Delancey Tolliver and Sir Ivan Boykin, both of Montgomery, AL; three devoted uncles: Sidney T.(Mary) Williams, Montgomery, AL, Willie Jackson and Willie(Linda) Tolliver, both of Los Angeles, CA; three loving cousins: Dolores(Anthony) McCall, Karen(Albert) Croskey, and Artria Tolliver, all of Montgomery, AL, amongst a host of other loving and caring relatives, friends and neighbors.
Published in the Montgomery Advertiser from Oct. 5 to Oct. 9, 2016.