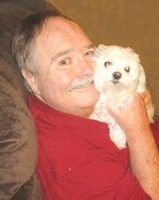 Edward Joseph "Joe" Dunlap, Jr. was born in Montgomery, Alabama, January 22, 1943 and died peacefully at home Wednesday, September 28, 2011 with his loving wife Kathy and his beloved companion of 12 years, "Muffy" by his side. He fought the good fight and never gave up his faith in Jesus through multiple illnesses.
Joe was preceded in death by his mother Lois Elizabeth (Betty) Dunlap and his father Edward Joseph Dunlap, Sr. and is survived by his brother Charles R. Dunlap of Sanford, Florida.
As a nine-year old Joe was chosen as the "Red Feather Kid" and played Hank Williams songs on the ukulele in front of huge audiences. He was a multi-sport athlete through his school years, a Class of 1961 graduate of Sidney Lanier High School and continued his education at the University of Alabama. He was a member of Alpha Tau Omega fraternity.
Joe married Kathy Hurrelbrink on July 17, 1976 in Atlanta, Georgia, and formed his own company selling hotel furnishings to luxury hotels. After many years he finally had a beautiful daughter, Lacey Elizabeth, his princess and love of his life, who is married to John "Blake" Amos of Gadsden, Alabama. He also has a daughter by his previous wife, Deborah Boyle (David).
The family moved to Mandeville, Louisiana in 1984. Joe loved his sports and had a passion for Alabama Crimson Tide and New Orleans Saints football. He lived long enough to see Alabama win a national championship, the Saints win the Super Bowl, but more important, the birth of his granddaughter, Elizabeth Lain on June 7, 2011. Joe felt his life complete.
The family wishes to thank Dr. William Barfield, his long-time physician and friend, for his kind and compassionate care as well as the staff of St. Tammany Parish Hospital, Home Health, and Hospice. Joe requested to be cremated with no formal funeral service or wake. E.J. Fielding is handling the arrangements.
A celebration of Joe Dunlap's life will be held in the family home on Friday, October 14 from 4-7 pm. Go online to sign the guest book at www.ejfieldingfh.com.