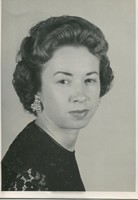 Betty Lou Hawk Gardner, 70 died on Jan. 7, 2010 in Hartselle, Alabama. She was preceded in death by her son Michael Everett Gardner, father Ed Gentry Hawk, mother Lucille Gwin Hawk Moseley, and infant sister Annie Claire Hawk.
She is survived by a son Jeffrey Allen Gardner, grandchildren Joshua Allen Gardner and Asia Ruth Gardner all from Hartselle, Alabama, brothers Gentry Morris (Buddy) Hawk of Greeley, Colorado and Charles Wayne (Gaye) Hawk of Pensacola, Florida, two loving Aunts, Roselle (Woodrow) Baker of Santuck, and Betty Fomby of Grier with many nieces, nephews, and cousins.
There will be a Memorial Service at Faith Baptist Church in Wetumpka on Sunday, January 17, 2010, with Gerald Wood officiating. There will be a time of visitation with the family beginning at 1:00 m at the church.