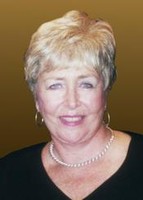 Margaret Elizabeth "Margie" Knox Lindsey passed away at her residence on Sunday, January 13, 2013.
Mrs. Lindsey was the:
Beloved wife of Thomas Edward "Sonny" Lindsey
Loving mother of Laurie Jane Lindsey Waddell (Gregg)
Loving mother of Timothy Edward Lindsey (Karen)
Loving mother of Leigh Ann Lindsey Freshley
Grandmother of Brittany Waddell Pace (Seth)
Grandmother of Ashley Waddell
Grandmother of Abby Lindsey
Grandmother of Miles Lindsey
Grandmother of Margaret Lindsey "Maggie" Freshley
Grandmother of Mary Callie Freshley
Great-grandmother of Oudrey Jules Gros, IV
Great-grandmother of Brooklyn Jane Pace
Great-grandmother of Avery Marie Pace.
Mrs. Lindsey was preceded in death by her mother, Margaret Elizabeth Gilmer Knox and her father, Wilbur Robert Knox.
She was 74 and a native of Montgomery, Alabama, but a resident of Mandeville, Louisiana for the past seven years.
Along with her husband, Mrs. Lindsey owned and operated the Poydras Frame and Art Gallery in New Orleans, Louisiana.
Relatives and friends of the family were invited to attend funeral services at
St. Timothy United Methodist Church
335 Ashbury Dr
Mandeville LA 70448
on Wednesday, January 16, 2013 at 12:00 noon. Visitation was on Wednesday from 10:00 AM until service time at the church. Interment was in Pinecrest Memorial Gardens in Covington.
Arrangements were entrusted to E.J. Fielding Funeral Home Inc. of Covington, LA.
You may sign an online guest book at
E. J. Fielding Funeral Home
Covington, LA 70433
985-892-9222