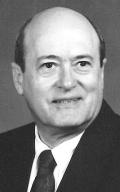 COLUMBIA - A memorial service for the Reverend Carlisle Patrick "Pat" Griffin, Jr. will be held Thursday, May 15, 2014, at 7:00 p.m. at Westminster Presbyterian Church, 1715 Broad River Road, Columbia, South Carolina 29210. The family with receive friends from 6:00 p.m. to 7:00 p.m. at the church. Caughman-Harman Funeral Home, Irmo/St. Andrews chapel, is in charge.
Reverend Griffin died on Monday, May 12, 2014. He was born in Eufaula, Alabama, February 3, 1939 and was the son of the late Mr. Carlisle Patrick Griffin and the late Mrs. Mary Flewellen Conner. He grew up in Montgomery, Alabama, and graduated from Sidney Lanier High School in 1957 and Presbyterian College, Clinton, SC, in 1961. He was a member of Kappa Alpha Order social fraternity and received his Master of Divinity degree from Columbia Theological Seminary, Decatur, GA, in 1967.
He was ordained a Presbyterian Minister (PCUSA) in 1968 at The Washington Presbyterian Church in Washington, GA. He began his 29-year chaplain career as a clinical chaplain with the S.C. Department of Mental Health in 1974. He recently served as Associate Pastor of visitation at Westminster Presbyterian Church of Columbia.
Rev. Griffin is survived by a sister, Emily Parrish and brother-in-law, Michael Parrish, of LaGrange, GA; nieces, Elisabeth Warrick of Atlanta, Lisa Pouncey of Chattanooga, and Heather Abeyta of Albuquerque; and a nephew, Pat Pouncey of Birmingham.
In lieu of flowers, memorials may be made to the building fund, Westminster Presbyterian Church, Columbia, SC.
Published in The State on May 15, 2014