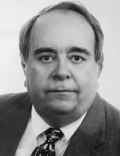 Joseph B. Richburg, age 73, of Montgomery, Alabama, and resident of Fairhope, Alabama, passed away Tuesday, January 17, 2012, in Mobile, Alabama. He was preceded in death by his parents, Robert Schley Richburg and Willie Mae Richburg of Montgomery.
Mr. Richburg is survived by his loving wife of 54 years, Joan, and their four children, daughters Lynn (Michael) Nehez, Patti (Joe) Woodard, Emily Steele, and son Robert Joseph, sisters Nell (Jim) Shea, and Jane (Larry) Hughes, grandchildren Sarah, Jacob, William, David, and Lucas, and great- grandchildren Peyton and Jaxson.
Joe Richburg served his country honorably in both the US Marine Corps and the US Air Force. He graduated from Sidney Lanier High School in Montgomery, Alabama, and Florida Institute of Technology in Melbourne, Florida.
His numerous lifetime professional accomplishments included founding several technology companies, most notably CaseWorks, Inc. in Atlanta, Georgia, and developing a patent for the "SEL Method and Apparatus for Generating Program Code Files."
He profoundly influenced many people in his life as a husband, son, father, teacher, leader, and mentor. He was dearly loved and will be greatly missed.
The family received friends and family on Saturday, January 21, 2012 at 12:00 p.m., at Leak Memory Chapel prior to burial services at Greenwood Cemetery in Montgomery. In lieu of flowers, the family requests donations be made in his honor to the Wounded Warrior Project.
Leak-Memory Chapel Directing www.leak-mc.com
Published in the Press-Register from January 18 to January 19, 2012