In Memory Of Our Poets
John Eugene Bentley (1937-2017) - Class Of 1956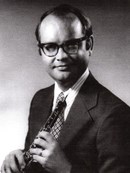 John Eugene Bentley, DMA, age 79, a resident of Monarch Landing in Naperville, Illinois, since 2016, formerly of Lisle, Illinois, passed away Tuesday, November 28, 2017, at Silverado Memory Care in Naperville. He was born December 5, 1937, in Florence, Alabama. John was preceded in death by his parents, Christmas and Mertiss (nee O'Dell) Bentley and two brothers, Frank and Donald Bentley.
John is survived by his wife, Judith Oaks Cook, whom he married September 9, 1962, two daughters, Julia A. (Thomas Schaller) Bentley and Jennifer C. (Rey) Requiron and five grandchildren: Lena Baloo and Janek August Schaller; Jasper Cole, Leo John, and Calvin Jey Requiron. Nephews and nieces, Frank and Steve Bentley, Carol Hughes; Jeffery Bentley, Tracy Bentley, and Rhonda Harrison.
John graduated from Sidney Lanier High School in Montgomery, Alabama, received a Bachelor of Arts in Music Education from the University of Alabama, Tuscaloosa, a Master of Fine Arts from George Peabody College in Nashville, Tennessee, and a Doctor of Musical Arts (Oboe) from the University of Michigan, Ann Arbor with additional work at Yale University.
John retired as a Professor Emeritus from Bowling Green State University in Ohio and had taught at the University of Tennessee, Knoxville, Carson-Newman University, Jefferson City, TN, Wartburg College, Waverly, Iowa, and the University of Michigan, Ann Arbor. He was principal Oboeist in the Knoxville Symphony and various other symphonies as well as conductor of the Wartburg Community Symphony in Iowa. He performed and traveled with several professional Woodwind Quintets and was very active in researching unpublished manuscripts in European Libraries as well as performing newly composed music.
A Celebration of Life Open House will be held Saturday, December 23, 2017, 2:00 - 4:00 PM in the Millstone Lounge at Monarch Landing, 2255 Monarch Dr, Naperville, IL 60563, (630) 300-1300.
Per his wishes, John's body was donated for scientific study.
In lieu of flowers, memorials can be made to:
Arrangements by Friedrich-Jones Funeral Home & Cremation Services, Naperville, IL.
For more information, please call (630) 355-0213 or visit www.friedrich-jones.com
Friedrich-Jones Funeral Home & Cremation Services.
Published in the Montgomery Advertiser on December 3, 2017.