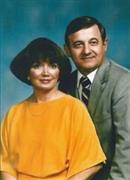 Ray Lawrence Blackburn, 75, a resident of Georgiana, AL went home to be with the Lord on Aug. 8, 2016 after a lengthly illness. He was born in Providence, Alabama, on Nov 14, 1940 to Lynwood and Necie Ray Black Blackburn who preceded him in death.
He is survived by his beloved wife of 52 years, Brenda Enzor Blackburn; 2 Sons: Craig Blackburn Los Angeles, CA and Chris (Amanda) Blackburn, of Greenville, AL; Grandson: Johnathan McMillan, Montgomery, AL; 3 brothers: Allen (Eddie Bell) Blackburn, his twin brother, Rex (Mary Ellen) Blackburn, and Pat (Sara) Blackburn, all of Providence, AL; several nieces and nephews.
Ray was a member of McGehee Baptist Church in Montgomery. He retired as principal of Georgia Washington Junior High in 1991. He and Brenda returned to the area where he grew up in 2006. He loved the Lord, his family, farming, hunting, and fishing ( in that order).
A Gathering of Family and Friends will be on Thursday from 6 p.m. until 8 p.m. A Celebration of Life Service will be held Friday, Aug. 12, 2016 from Johnson Funeral Chapel with Rev. Keith Gambill (nephew) officiating and Chaplain Andy Peavy will provide the music. Burial will follow in Providence Cemetery.
Pallbearers will be nephews, Michael Blackburn, Phil Blackburn, Keith Blackburn, Joey Disney, Allen Smith, Bobby Smith, Rusty Smith, and Alex Cooper.
In lieu of flowers, donations may be made to Southern Care Hospice, Greenville, AL, or to McGehee Road Baptist Church, Montgomery, AL.
Special thanks to Southern Care Hospice for all they did during Ray's final days.
Online condolences can be made at www.johnsongeorgiana.com.
Johnson Funeral Home of Georgiana, Alabama, directing Arrangements.
Published in the Montgomery Advertiser on Aug. 11, 2016