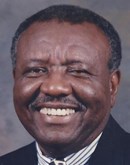 Mr. Jimmie Adams on January 22, 2018, at 10:15 am prayed his last prayer:
"that is when it came time to die, that it would be his last cast. He prayed most humbly for peaceful sleep and that God's mercy allowed him to be judged big enough to keep.
Funeral services will be held Saturday, January 27, 2018, at 11:00 a.m. from the Morning Pilgrim Baptist Church with Rev. James Watts, officiating. Interment in Sawyer Cemetery Sandy Ridge, Alabama.
He leaves to cherish his memories his loving wife of 27 years, Mary Adams, two daughters, three sons, three grandsons, six sisters-in-law, four brothers-in-law and a host of family and friends.
Jimmie was an educator in the Montgomery Public School System for over 30 years and was also the first black principal at Sidney Lanier High School before retiring in 1994.
Omega Rites will be held Friday, January 26, 2018, at 7:00 p.m. from Ross-Clayton Funeral Home Chapel.
Published in the Montgomery Advertiser on Jan. 26, 2018.