William Hooper Walker (Pop Pop), 78, of Dallas, Texas died peacefully at his home after a battle with Pancreatic Cancer. Born December 13, 1935 in Montgomery, Alabama. He graduated Lanier High School in 1954, and entered his beloved University of Alabama where he attended on a baseball scholarship, graduating in 1958.
He entered the field of education and coaching until he was appointed by the Governor to initiate and develop the Council on Physical Fitness. In this capacity, he raised funds to form a team to enter the National Games for Special Olympics, winning the National Championship for the state of Alabama. During this time, he was appointed to serve on the National Board of the Kennedy Foundation. Moving his family to Dallas, TX in 1972 to work as Director of the Aerobics Center, his focus was always on improving and serving his community. His passion was for family, his faith, sports and the youth to which he formed significant bonds.
For the past 16 years, he was fortunate to be associated with Hillwood Development Company as Director of Community Relations and Governmental Affairs. He was Co-Chairman of the Sky Ball, raising funds for the families of the wounded veterans, volunteered with the Communities in Schools of North Texas, and served on the boards of the Speedway Children's Charity, Denton County Transportation Authority, City of Roanoke Parks and Recreation, and the Northwest ISD Educational Foundation.
He is survived by his wife, JoAnne Hedrick Walker; his daughter, Norma Anne VanMarel; son, William Hedrick Walker; granddaughter, Rebecca Anne VanMarel; brother, Frank Walker and numerous nieces, nephews and cousins.
A Memorial Service will be held on November 3, 2014 at 11:00 A.M. at the First Methodist Church of Richardson, 503 N. Central Expressway, Richardson, TX.
In lieu of flowers, memorial donations may be made to:
The A-Club Educational & Charitable Foundation
P.O. Box 1961
Tuscaloosa, AL 35403
North Dallas Funeral Home - Dallas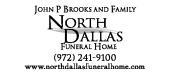 2710 Valley View Lane Dallas, TX 75234
972-241-9100
Published in Dallas Morning News on Oct. 31, 2014