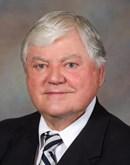 John Sanderson Bowman, a lifelong resident of Montgomery died on October 1, 2018, at home after a brief illness at the age of 82. He is preceded in death by his parents William C. Bowman, Jr. and Ellen Sanderson Bowman. He is survived by his wife of sixty years, Carolyn Lawley Bowman, son John S. Bowman, Jr. (Amy), daughter Millie Bowman Armstrong, and his three grandchildren, Drew Armstrong, Claire Peyton Webber (Rawley) and Chesley Wilson Crider (Austin). He is also survived by his brother William C. Bowman, III (Lida) and nieces Lucy Bowman Brady (David) and Ellen Bowman Shields (John).
He graduated from Sidney Lanier High School in 1954, The University of Alabama with a B.S. in 1958 and received his L.L.B. from the University of Alabama in 1960. He was a member of Phi Delta Theta fraternity and Omicron Delta Kappa National Leadership Honor Society.
He practiced law in Montgomery from 1960 until the time of his death. He started his career with Goodwyn and Smith which became Smith, Bowman, Thaggard, Crook, Culpepper, and Boyd. In 1984 they merged into the firm that is today known as Balch and Bingham.
John had a passion for real estate development with a special interest in the revitalization of downtown Montgomery. He was particularly proud of how vibrant downtown Montgomery has become.
He has been active in the community and in support of his alma mater.
He served on the President's Cabinet for the University of Alabama
He is a past vice president of the University of Alabama National Alumni Association as well as a past president of the Montgomery Chapter.
He is a former Chairman of the Administrative Board and Board of Trustees for First United Methodist Church.
He is a past president and permanent member of the board of directors of the Landmarks Foundation
past board of directors and Committee of 100 for the Montgomery Area Chamber of Commerce
past Chairman of the Board of Directors of the Capital City Club.
He also has served on many boards,

including The Montgomery Council for Aging,
The Central Alabama Community Foundation,
and the Montgomery Country Club.
John loved to spend time with his family and a vast array of friends. He especially enjoyed doing so as Capt'n Bowman and/or the French Ambassador to Lake Martin at his home on the lake. He was a founding member of the Montgomery Red Elephant Club and was a lifelong and passionate supporter of the Crimson Tide.
Pallbearers are the Honorable Harold Albritton, John Bonham, David Brady, Golson Foshee, John H. Foshee, Jeffrey Paulk, Joe Bob Pierce, Jim Rives, Doug Sellers, and Fred Smith.
The family will receive friends on Thursday, October 4th in the Fellowship Hall of First Methodist Church at 12:30 pm followed by a service in the sanctuary at 2:00 pm after which there will be a private graveside service.
In lieu of flowers, memorial contributions may be made to

First United Methodist Church Building Fund,
Landmarks Foundation of Montgomery
Montgomery Area Council on Aging.
Published in the Montgomery Advertiser on Oct. 3, 2018