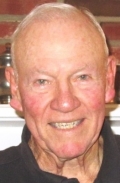 Mr. Clifton G. "Sparkey" Allen, Jr., 77, passed away on July 8, 2012. Funeral services will be held at Striffler-Hamby Mortuary, 4071 Macon Rd., Columbus, GA on Wednesday, July 11, 2012 at 1:00 PM with Rev. Dr. Jones Doughton officiating. The family will greet friends at the funeral home beginning at 12:00 PM on Wednesday.
Mr. Allen was born on October 13, 1934 to the late Clifton, Sr. and Elizabeth Allen in Montgomery, AL. He was a veteran of the United States Air Force. Mr. Allen was a graduate of Auburn University, having received his Bachelor's Degree in Accounting. He was a member of Sigma Alpha Epsilon. Mr. Allen was a member of the Kiwanis Club as well as a dedicated volunteer at the local food bank. He was a member of First Presbyterian Church. Sparkey, as he was so fondly known, was an avid Auburn University fan. He also loved hunting, fishing, boating and golf. Anything he could do to spend time with his family and friends was always his top priority. He was preceded in death by his wife Peggy Kennon Allen.
Survivors include his two daughters, Wendy Allen Muths (Sherman) of Gulfport, MS and Stacey Allen Schwarz (Adam) of Singapore; a son, Edward Allen (Terri) of Huntsville, AL; six grandchildren, Meg and Izzy Muths, Edward and Henry Allen and Jackson and William Schwarz; three step-sons, Jeff Reese of Tallasee, AL, Randy Reese of Columbus and Chris Reese of Columbus; three step-grandchildren, Kennon and Sydney Reese and Taylor Reese; and his beloved pet, McKenzie.
In lieu of flowers, the family asks that memorial contributions be made to Columbus Hospice at www.columbushospice.com or 7020 Moon Rd., Columbus, GA.
Please visit www.shcolumbus.com to express condolences.


Published in the Montgomery Advertiser on July 10, 2012