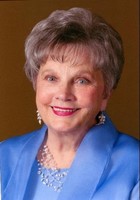 November 11, 1933 - May 2, 2017
Dorothy (Dottie) Cowart McGehee, Ph.D. a native of Gulfport, MS, and resident of Mobile, Alabama died Tuesday, May 2, 2017, surrounded by her daughters. Born in 1933, she was the daughter of the late Julius C. Cowart and Nancy Cowart Downing and was predeceased by her stepfather James C. Downing, and her husband, Dr. John M. McGehee.
She is survived by her five daughters: Lucy Boykin (Buddy) of Scottsboro, AL and Nancy Martin (Peter), Laura O'Connor (Kerry), Jamie Elcan (Dan), and Julie Minto (Dean) all of Mobile, AL; two step-sons Dan McGehee of Chicago, IL and Robert McGehee (Emily) of Birmingham, AL, and one stepdaughter Mary McGehee (Paul) of Sutton, MA; her grandchildren Ken Huffstutler, III (Kim), Downing Huffstutler, Bert Boykin (Lauren), Connor Boykin (Savannah), Kerry O'Connor, Jr., Matthew O'Connor, Paul Elcan, Bennett Elcan, Lisa Elcan, Herndon Radcliff, and Sonny Radcliff, Marissa McGehee, Connor McGehee, Thomas Payne, Warner Payne, Sarah Busha, and William Busha; one great-granddaughter Harlan Huffstutler; nieces, nephews and other relatives.
Born in Gulfport, Mississippi and raised in Montgomery, Alabama she was Valedictorian at both Sidney Lanier High School, and Huntingdon College. She earned her Master of Arts from the University of South Alabama and her Doctorate of Education from Auburn University.
A beloved teacher at St. Paul's Episcopal School for more than 40 years, Dottie taught religion to several generations, including her own children and grandchildren. She developed the school's religion program and taught students through the Class of 2017. She was also a co-honoree in the naming of The Mueller McGehee Chapter of the Junior National Honor Society at St. Paul's.
A member of Dauphin Way United Methodist Church since 1957, she taught a small group Bible studies and was a team teacher in the Faith Development Sunday School class. She also served on the Board of Stewards, was a member of the Spiritual Life Committee, served as a Stephen Minister, and co-led the Companions in Christ study for 16 years. In 2016, she was named an Honorary Steward, the highest honor the church can bestow.
A cherished mother, grandmother, wise counselor, and friend to all, Dottie's vibrant personality was reflected in her beautiful garden. Her personal ministry touched the lives of so many within her church, her school, her family and friends, and anyone fortunate enough to meet her.
A memorial service will be held at Dauphin Way United Methodist Church on Friday, May 5 at 11:30 am. The family will receive friends before the service from 10:00 am – 11:30 am in McGowin Hall.
Memorials made be made to:
The Dottie and John McGehee
Scholarship Fund
St. Paul's Episcopal School
161 Dogwood Lane
Mobile Alabama 36608
Dauphin Way United Methodist Church
1507 Dauphin Street
Mobile AL 36604
Published in the Mobile Register and Baldwin County on May 5, 2017.