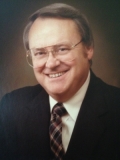 Mr. John Roquemore (Rock) Chambless, age 79, a lifelong resident of Montgomery, Alabama passed away on May 16, 2013. He was the son of Sophie Lou (Hall) and Jack Lloyd Chambless.
Rock grew up in Montgomery and after graduating from Sidney Lanier High School, he was both accepted to Auburn University and drafted to play baseball for the Saint Louis Cardinals. Ultimately, he chose Architecture over baseball, earning his degree in 1955. Upon graduating from Auburn, he entered the U.S. Army, serving as an instructor for the Corps of Engineers at Ft. Belvoir, Virginia.
After his military service, he returned to Montgomery to begin his career in architecture. His successful career spanned over 55 years, much of which he spent working with his son, John Chambless, Jr. of Chambless King Architects. Notable projects of Rock's include the additions to Bryant Denny Stadium, numerous projects within the State Capitol Complex, the Eisenhower lake house, the family home of Lionel and Deborah Richie and most recently, the new Alabama State University Stadium. Rock earned multiple design awards such as the 1967 Design Award for the Green Lantern Bank and an International Energy Conservation Award.
In 1951, in what Rock would later describe as "the most important event in his life," he met his wife, Nancy Montgomery Chambless from Pittsfield, Massachusetts. They married in June of 1954, two years prior to his graduating college.
Rock dedicated his life to the Presbyterian Church, becoming a commissioned Lay Pastor from Columbia Theological Seminary. In addition to Rock's varied talents, throughout his life he was an avid fisherman, a licensed pilot, a fencing instructor, and a tennis player for the Army.
He is preceded in death by his three brothers Jack Lloyd, Jean "Chuck" Alexander and Dr. William H. Chambless and grandson John Michael Chambless.
He is survived by his children John (Sharon), Mark (Elicia), Laura Taylor (Patrick), and Frank (Laurie). Rock is survived by grandchildren Laura Kathryn, Jordan and Maisey Chambless; Sarah (Dave) Davenport, Garrett and Blake Chambless; Taylor and Tanner Talley; Beverly (Don) Doyle, John and David Harrison, Catie (Adam) Carter; Lee Anne (George) Singer, Brooke (Reid) Kirkpatrick and Skye (Liam) de los Reyes.
He is also survived by his sisters-in-law, Jackie Speigner Chambless, Carol (Tom) Wert, brother-in-law Jim (Carol) Montgomery and Karen Chambless Phillips as well as four great grand-children.
Visitation will be held on Tuesday, May 21, 2013, from 5:00-7:00 pm at Alabama Heritage. The Memorial Service will be held on Wednesday, May 22, 2013, at 10:00 am, at Immanuel Presbyterian Church, 8790 Vaughn Road, followed by a graveside service at 11:45 am, at Oakwood Cemetery, 829 Columbus Street.
The family would like to specifically thank Dr. Greg Sullivan for his lifetime of friendship and medical attention. Also, the family wishes to thank Dr. Rick Love for his support and guidance during Rock's illness.
In lieu of flowers, the family requests donations be made:
'In Memory of Rock Chambless' to the:
Presbyterian USA Youth Program
Presbytery of Sheppards & Lapsley
3603 Lorna Ridge Drive
Birmingham AL 35216
Condolences may be offered at www.alabamaheritagefh.com
Published in the Montgomery Advertiser from May 19 to May 21, 2013