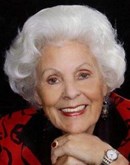 Mrs. Barbara "June" Morgan Boswell Griffin, age 85, passed away on February 13, 2018.
June was born July 16, 1932, in Slapout, Alabama and soon moved to Montgomery. She was runner-up for Miss Alabama while still a student at Sidney Lanier High School.

In 1949, June married Stanley "Suggs" Boswell (deceased) and the couple had four children: Angie Many (Bruce), Stan Boswell, deceased (Rhonda Flanagan), Carol Davis (Steven), and Melinda "Mindy" Newell (Jack, deceased), eight grandchildren: Bobbie Many Chiaro, Kenny Many, Beth Boswell, Morgan Boswell, Russell Boswell, Catherine Davis Todd, Christy Segrest Jones, and Clint Ellis; and 10 great-grandchildren. She was also preceded in death by her second husband, Talbert Griffin, Jr., her parents Faul and Bobbie Morgan, and her brother Kenneth Morgan (JoAnn).
Before she entered assisted living, June was an active member of Phi Beta Kappa sorority and First United Methodist Church. She carried her love of singing and dancing even into the nursing home, where she often lightened moods with her 'entertaining'.
In lieu of flowers, June asked that memorial contributions be made to:

Stegall Seminary Scholarship Foundation
POB 241661
Montgomery AL 36124
A visitation will be held at First United Methodist Church on Sunday, February 18, from 12:00 to 1:00.
Published in the Montgomery Advertiser on Feb. 17, 2018