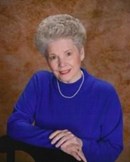 Bernice Christine "Burma" Grier Rutherford, 87 of Memphis, Tennessee was called home by her Savior on March 20, 2018, after a brief illness. "Burma" was born June 11, 1930, in Montgomery, Alabama to Lonnie Davis Grier and Maxie Lou Howard, and was preceded in death by her parents, her beloved husband, Carl Benson "Doc" Rutherford, her sister, Maxie Eloise Grier Beynon, her grandson, Erik Rawson Lorenz and her granddaughter, Erika Lorenz Herron.
Burma is survived by a sister, Betty Jean Steagal, a brother, Lonnie Davis Grier (Barbara), a son, Carl Michael Rutherford (Cheryl), her daughters Sherry Lynn Rutherford Lorenz (Ralph), Lori Jean Rutherford Carley (David), and four grandchildren, two great-grandchildren as well as other friends and extended family.
Growing up in Montgomery, Burma graduated from Sidney Lanier High School. She married Doc Rutherford on April 19, 1953, and they remained at each other's side for 57 years, until his death in 2010. Burma and Doc were members of Frazer Memorial Methodist Church in Montgomery.
A keen Bridge player, Burma was a member of various local Bridge clubs throughout her adult life. Most of all, her favorite pastimes were the occasions spent with her children, grandchildren, and great-grandchildren.
Visitation will begin Monday, March 26, 2018, at 11:30 am at White Chapel-Greenwood Funeral Home in Montgomery, Alabama, with a celebration of life service to follow at 12:30 pm, with Dr. John Ed Mathison, officiating. Interment will follow at Greenwood Serenity Memorial Gardens.
Online condolences may be shared at www.whitechapel-greenwoodfh.com
Published in the Montgomery Advertiser on Mar. 25, 2018.