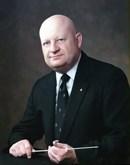 David DeLisle Black, Jr. passed away peacefully on Tuesday, December 18, 2018, after a long illness at the age of 87.
David DeLisle Black, Jr. was born June 9, 1931, in Montgomery, Alabama. He graduated from Sidney Lanier High School in Montgomery, Alabama in 1949. He graduated from the University of Alabama with a B.S. Degree in 1958 and an M.A. Degree in Music Education in 1963. At the University he studied with Col. Carleton K. Butler and played with the "Million Dollar Band" as drum captain.
Mr. Black served in the U.S. Army Signal Corps in Korea from 1955 to 1957. He began his teaching career at Baldwin and Bellingrath Junior High School Bands in 1957. He was also Assistant Band Director at Lanier High School in Montgomery from 1957 to 1966. Under Mr. Black's direction, the Bellingrath Junior High Band performed at both district and state contests and rated superior and excellent from 1963 to 1966.
In 1966, Mr. Black was appointed to the position of Instrumental Music Consultant with the State Department of Education. He served in this position until 1980. During this 14 year period, Mr. Black attended Auburn University in Montgomery and completed the "AA" Certificate in Administration and Supervision. The focus of Mr. Black's work at the State level was to help instrumental music teachers through visits and workshops. Special efforts were made to facilitate the understanding between directors and administrators. Mr. Black was appointed State Chairman of the Alabama Alliance for Arts Education Committee and the Alabama Aerospace Education Committee. He continued to work with the State Department of Education until he retired in 1992.
In 1980 Dr. Frank McArthur and Mr. Black conceived the idea of starting a tape project for Phi Beta Mu which would provide college teachers an opportunity to train students for the Alabama All-State tryouts. He made these exercises available for Junior and Senior High School students for 32 years. He is a member of Phi Beta Mu, Phi Delta Kappa, the Montgomery Amateur Radio Club, and a life member of MENC. Mr. Black was inducted into the Phi Beta Mu Alabama Bandmasters Hall of Fame in 1984.
Mr. Black is predeceased by his parents, Lena Mae and D.D. ("Stumpy") Black, Sr. He is survived by his wife of 58 years, Suanne Lett Black; and by his children, Alice Ann Black and David DeLisle Black, III; first cousins, Julian Jones, Jr., Dr. Robert Jones (Ginger), Dr. Richard Jones (Anne), Cody Jones (Pam), and Austin Jones; brother-in-law, Dr. Samuel Lett (Nancy); cousins, Woody Bryan (Linda), and Tommy Bryan (Betty).
Mr. Black was a life-long member of the Catoma Street Church of Christ. He served as a Deacon and Song leader for many years.
Visitation will be held on Saturday, December 22 at Leak Memory Chapel at 1:00 p.m. Chapel services will be held at 2:00 p.m. Burial will be in Greenwood Cemetery. Minister Raymond Elliott will be officiating.
Pallbearers will be Ron Wright, Gary Jones, Arthur Hitt, Kirk Golden, Samuel Lett, and Chris Bryan.
Memorial contributions may be made to:

Alabama Christian Academy
Montgomery Humane Society
A charity of your choice.
The family would like to extend their thanks to Amedisys Hospice for their expert care during the last seven months and to Ghitana Franklin for all that she has done to help our family.
Published in the Montgomery Advertiser from December 20 to December 21, 2018.