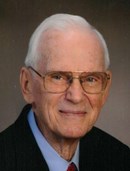 Donald Burton Lambert, age 88, passed away on September 22. 2017 at his residence in Clarksville, Tennessee. He was preceded in death by his parents, Don and Martha Lambert, and sisters Lois McKean and Ruth Viering.
A family graveside service will be held at Greenwood Cemetery at 11:00 a.m. His funeral will be held in the Faith Sanctuary at First Baptist Church (corner of Madison and Fifth St) at 12:00 p.m. on Wednesday, September 27 with Pastor Larry Riley officiating. Visitation will be Tuesday, September 26, 4 p.m. - 6:30 p.m. at McReynolds, Nave, & Larson Funeral Home and immediately following the service on Wednesday in Fellowship Hall of the Church.
Don graduated from Sidney Lanier High School, Class of 1947, in Montgomery, Alabama. He attended Auburn University where he was a member of the Army ROTC. He served as a Lieutenant in the US Army from 1950-1952 in heavy artillery in Germany during the Korean Conflict. He worked as a teacher and school administrator in Anniston, Alabama, and Opelika, Alabama where he led his schools with gentle leadership and dry wit.
After completing his EdD at Auburn in 1968, he relocated to Clarksville, Tennessee to work at Austin Peay State University (APSU). In 1980 he was appointed a Professor and Chair of the Department of Education until his retirement in 1993. He was always quick to shift credit for his accomplishments by praising his staff and colleagues. He went about the business of advising, teaching, and consulting with students with a calm sense of dedication sprinkled with humor. He lived a life of integrity giving generously of his time and resources to professional and community organizations.
In 2002, he established an endowed scholarship for students in the Education Department at APSU in honor of the many educators in the Lambert family.
For almost 50 years, Don was an active member and deacon at First Baptist Church of Clarksville. He taught Sunday School for 40 years and ended his teaching career with his wife, Betty helping 5-year-olds discover the miracles of God's creation and love.
During his life, he experienced great pleasure in sharing his hobbies of woodworking and gardening. His love language was service to others through the gifts of his hands.
He is survived by his high school sweetheart and spouse of almost 67 years, Betty Vickery Lambert, three children Stephen Burton Lambert ( Melanie), Jane Lambert Wallace (Steve), and Neil Vickery Lambert (Ann). He is also survived by seven grandchildren and two great-grandsons.
In lieu of flowers donations can be made to the Retired Teachers Scholarship Fund or to First Baptist Church.
Published in Tennessean on Sept. 24, 2017