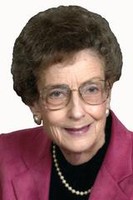 Helen Drummond Harris, beloved mother and grandmother, passed away on September 28, 2010.
Helen was a resident of Edmond, Oklahoma for the past five years. She lived most of her life in Montgomery and Birmingham, Alabama. She was the youngest of three daughters born on September 21, 1928 to George Robert and Frances Arnett Drummond in Montgomery. She graduated from Sidney Lanier High School in 1947 and married Marvin Eugene Harris on April 18, 1948.
She was a long-time member of Vestavia Hills United Methodist Church and is retired from the Office of Vocational Rehabilitation in the state of Alabama. Helen enjoyed hiking at Oak Mountain State Park, volunteered at her church and was a docent for the Birming-ham Zoo. As a senior citizen, she attended the University of Alabama Birmingham.
Helen is preceded in death by her mother, father, and sisters Attie Thornton and Alice Vinson. She is survived by her sons Marvin Eugene Harris, Jr. and wife Linda of Edmond, and Paul Chesson Harris and wife Karen of Savannah, Ga.; four grandchildren, Lael Boyd, Hank Harris, Jane Harris, and Paul Chesson Harris Jr.; and two great grandchildren, Claire Elizabeth and Holly Jean.
A memorial service will be held at Vestavia Hills United Methodist Church in Vestavia Hills, Alabama, in the near future.