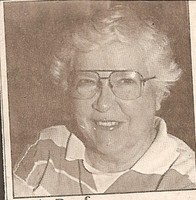 Janie Lou Dunwody Renfro, 76, of Robinson, Texas, passed away Friday, May 30, 2003, at a local nursing home. Janie was preceded in death by her parents and a daughter, Jessie Lynn Renfro.
Janie was born June 15, 1926, in Anson, Texas, to Lewis Russell Dunwody and Jessie (Pittman) Dunwody. She graduated from Sidney Lanier High School in Montgomery, Alabama, and attended 4C College in Waco. She married Max Renfro Nov. 13, 1946, in Waco and worked for Veterans Administration Regional Office for three years.
After moving to Pasadena, Texas, she spent most of her time caring for her home and family; but to say that she was a homemaker does not begin to describe all of the caring ways in which she served her family and friends. After returning to the Waco area, she became a member of First Baptist Church of Robinson, participating in the choir and Praying Hands Sunday School class.
She is survived by her husband, Max Renfro of Robinson; sons, Larry F. Renfro and wife Linda of Robinson, Gregory A. Renfro and wife Betsy Eades of Houston; daughter, Melissa J. Renfro and husband John Woodyard of Baker, Nevada; sisters, Ruby Nell Howard of Fort Worth, Nancy Dailey of Center Point, Mary Roberts of Duncanville and Linda Dunwody of Waxahachie; grandchildren, Larry Daniel Renfro, Gregory Mason Renfro, Haley Ann Renfro, Jacob Allan Renfro and Audrey Lynn Renfro.
Funeral services will be at 2 p.m. Monday at Pecan Grove Funeral Home with the Reverend Michael Moore officiating. Burial will follow at Waco Memorial Park. The family will receive visitors from 7 to 9 p.m. A video tribute to her life will be shown on Sunday at the funeral home.