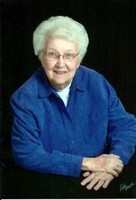 Mary Lillis Corcoran Allen, 92, died July 11, 2017. She was born in Montgomery on September 8, 1924. Mary was preceded in death by her parents, James Burke Corcoran and Lillis Hall Corcoran; her husband of 29 years, John Adrian Allen; an infant grandson, William Joseph Miller; and her sisters, Marguerite Corcoran Jones and Virginia (Jenny) Corcoran Urquhart.
After attending elementary school in Eufaula, she graduated from Sidney Lanier High School in 1942 and earned a degree in accounting from the University of Alabama in 1947. She retired from the Alabama Department of Education in 1991. S
Mary is survived by her children John Daniel Allen (Nola), L Jean Allen, Charles Burke Allen, Frances Jane Allen (Joe Wooldridge), and Marilyn Allen Salter (Don) as well as many grand and great grandchildren.
Visitation will be at White Chapel-Greenwood funeral home on Thursday, July 13, 5:00-7:00 pm with a rosary beginning at 6:30 pm. A celebration of life service will be at St. Bede Catholic Church on Friday, July 14, at 10:00 am. Graveside services will immediately follow at Forest Hills Cemetery in Snowdoun, AL. Online condolences may be shared at White Chapel Greenwood.
Published in the Montgomery Advertiser on July 13, 2017.