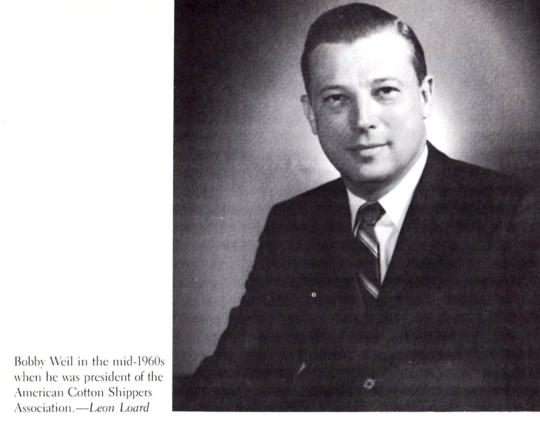 Robert Schoenhof Weil passed away October 25, 2016. He is predeceased by his parents, Adolph and Rossie Weil, his brother, Adolph Weil, Jr., sisters Carol Rothschild and Helen Jane Uhlmann and wife of over 66 years, Virginia Loeb Weil.
Born November 29, 1919, in Montgomery, Alabama, he attended Lanier High School and graduated from Culver Military Academy(1936), Dartmouth College(1940) and Harvard Business School(1942).
Upon graduation from Harvard, he served as an officer in the US Army from 1942-46, after which time he joined the family cotton company, Weil Brothers Cotton, Inc., rising to the position of Chairman of the Board which he shared with his brother Adolph Weil, Jr. He held a number of leadership positions in the cotton industry including President of the American Cotton Shippers Association.
He was very active in the Montgomery community, serving as campaign chairman of the United Way and various leadership roles with the Community Foundation, Chamber of Commerce, Salvation Army, Leadership Alabama, Leadership Montgomery, One Montgomery, American Cancer Society and St. Margaret's Hospital.
Additionally, Mr. Weil cared greatly about education, serving on the boards of Wheaton College, Dartmouth College Alumni Council, Huntingdon College, Auburn School of Business, Auburn University at Montgomery and the Montgomery Academy.
He also served on the boards of the Hood Museum at Dartmouth, the Boston Symphony Orchestra, the Alabama Symphony, the Montgomery Symphony Orchestra, the Montgomery Business Committee for the Arts and the Montgomery Museum of Fine Arts.
He received a number of honors including induction into the Alabama Academy of Honor, Honorary Doctorate from Auburn University, Citizen of the Year from the Montgomery Advertiser, Alexis de Toqueville Society Award from United Way, induction into the Alabama Business Hall of Fame, the Sidney Lanier Hall of Fame and the Montgomery Jaycees Outstanding Young Man of the Year (1948).
He especially enjoyed his membership in The Thirteen, being its longest serving member of over 50 years. Honorary pallbearers will be members of The Thirteen and Dr. Wick Many.
He is survived by children Virginia A. Weil, Rosalind W. Markstein (Danny) and Robert S. Weil, II (Sheila) as well as grandchildren Nicholas W. Langman, Andrea R. de Laperouse, Daniel H. Markstein, IV, Virginia M. O'Hara, Robert S. Weil, III and Ruth C. Weil as well as 8 great grandchildren and caregivers and close friends Willie Mae Davenport, Rosetta Powell, Viola Jackson, Derrick Hendrix, Sherree Davis, Angela Jones and the wonderful people at Home Instead.
The family appreciates memorial gifts to the Rothschild Emergency Fund of the River Region United Way or another charity of one's choosing.
Services will be held at Leak Memory Chapel at 2 PM on Sunday, October 30, 2016, with interment in Greenwood cemetery afterward. Visitation will be at 1250 Glen Grattan on Friday and Saturday and after the services on Sunday.
Pallbearers will be grandsons and great nephews Daniel H. Markstein, IV, Nicholas W. Langman, Robert S. Weil, III, Daniel O'Hara, Patrick de Laperouse, James Butler, Josh F. Mandell, Charles D. Mandell, Drew Weil and Dustin K Weil.
Published in the Montgomery Advertiser from Oct. 28 to Oct. 30, 2016.