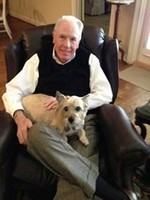 Francis Berry Grant, 72, a lifelong resident of Montgomery, Alabama passed away on August 8, 2014. He heard his Lord say, "Well done my good and faithful servant." He is preceded in death by his parents, F. Gaston and Katherine Grant and his granddaughter Clara Louise Mackay.
Survivors include his wife of 47 years, Margaret Davis Grant; children and grandchildren Lee Anne Grant Mackay (Iain) Ellison and Griffin of Jackson, WY and Patrick David Grant (Michelle) Gaston and Brooks of Birmingham, AL; his sister, JoEllen Grant Smith of Marietta, GA; nieces, Lisa Smith Munson (Jonathan) of Woodstock, GA and Mary-Margaret Smith Blum (Michael) of College Park, MD.
Berry was a graduate of Sidney Lanier High School and Auburn University where he was a member of the Sigma Nu Fraternity. He served for 2 years as an officer in the United States Navy aboard the aircraft carrier USS Saratoga then served 18 years in the Reserves and retired as a Commander.
For over 35 years, Berry was a highly respected member of the Travel Industry in Montgomery. Berry began his long career as manager of the First Alabama Bank Travel Agency. He was the founder and owner of Odyssey Travel of Montgomery and enjoyed many successful years of service to the citizens and the businesses of Montgomery and the State of Alabama. In 2012, he retired as manager of All Seasons Travel of Montgomery.
He loved his Lord, his family, his friends, and Auburn! He was very active in civic and business affairs in Montgomery. He served on the Chamber of Commerce, Montgomery Area Committee of 100, YMCA Foundation, Business Council of Montgomery, the President of the Industrial Board for 9 years and was also a member of the Montgomery Country Club. He was a member of First Baptist Church and the Poundstone Class. He served his Lord as the Chairman of the Community Ministries Caring Center, the Tutoring program and as a Deacon and Usher.
Pallbearers will be Bobby Broach, George Clements, Ben Easterling, Lewis Gayden, Bobby Lowder, Mike Miller, Benny Nolan and Junie Pierce.
Honorary pallbearers will be the members of the Poundstone Class and Woody Bagwell, Bill Boyd, Hugh Cole, Lewis Gayden, Wilber Hufham, John Holloway, Jerry Kyser, Leslie Watson, Barry Wilson.
The funeral will be held on Tuesday, August 12, 2014 at 11:00am at First Baptist Church Sanctuary with Dr. Jay Wolf officiating. Visitation will be at the church an hour prior to the service. A graveside service will follow in Greenwood Cemetery.
The family extends a special thank you to all the Staff at Crowne Healthcare who took such loving care of Berry the last 8 months.
In lieu of flowers, the family requests contributions be made to:
The Caring Center at First Baptist Church
305 South Perry St
Montgomery AL 36104
Respite Ministry at First United Methodist Church
2416 West Cloverdale Park
Montgomery AL 36106
Published in the Montgomery Advertiser from Aug. 10 to Aug. 11, 2014.